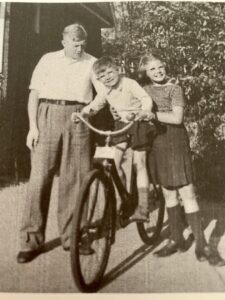 During World War II, Ford Canada offered British Ford employees the opportunity to send their children to Canada for the duration of the hostilities. My great uncle, a Ford engineer in Windsor and his wife cared for siblings Jacquie and John Young for five years.
"You can call us 'Uncle Dave' and 'Auntie Dorothy'", they told the children when they arrived in September 1940. Although the couple tried their best to be welcoming and make the youngsters feel at home, four-year-old John cried himself to sleep each night for weeks.
With no children of their own, the sudden arrival of two was daunting. At their own expense, Dave and Dorothy enrolled eight-year-old Jacquie in a highly-respected girls' boarding school in St Thomas but welcomed her 'home' each holiday. John was too young to attend school.
Shortly after his arrival, he discovered that his 'uncle' was popular with the local children who often brought him their toys to repair. John was soon the proud owner of an Eatonia wagon, that he fondly names his 'truck'. Later, he graduated to a bicycle,
Although the children weren't allowed a dog, Peter Rabbit joined the household. Uncle Dave build him a two storey hutch, accessed through a wall in the garage. John and a friend whom he met when he started school, often spent their time playing with the bunny.
John fondly remembers his time in Canada: sailing or playing with toy boats at the beach during the summer; skating on the Detroit River or being towed across the ice behind Uncle Dave's car during the winter.
In January 1945, the authorities in Britain felt it safe to return the children. Although Dave and Dorothy wondered at this decision since the war had not yet ended, they had no choice but to comply. Although Dorothy dutifully packed the children's trunks, Dave unpacked them and refilled them with as many toys as would fit – including John's 'truck'. The remaining space was packed with clothes.
Although a U boat sunk one of the ships in their convoy on the return voyage, the children disembarked safely in Liverpool. After a day of quarantine, they arrived by train in London on February 19th, a lovely birthday surprise for their mother. During their five year absence, her hair had turned completely white. In the ensuing week, they had to get to know their parents all over again. Once again, John cried himself to sleep, this time missing his aunt and uncle.