A single person, place or event can spawn an entire novel. But once the writing begins, the story takes on a life of its own. I always carry a small notebook and pen with me, ready to jot down interesting places, events, and people. These notes, coupled with my own experiences and imagination percolate in my brain until they knit themselves into a story.
Sixteen-year-old Kilian Barker can't resist taking his newly-purchased Mustang for a spin in the country, even without insurance and a legal license. Too bad there's a cop at the stop sign when he flies by. Kilian accelerates up the hill past a hay wagon, barely missing the on-coming cars. Knowing he'll be caught on the straight road ahead, he makes a desperate turn into the back parking lot of a nursing home, and hurries inside to hide. A nurse sees Kilian looking at the medals in the display case outside Harry Goddard's room. She assumes he's there to see the 92-year-old and ushers him in. Kilian spins a story about being a former neighbour and is surprised that Harry goes along with it. As soon as the nurse leaves, Kilian tries to excuse himself. Suddenly he feels the sting of Harry's cane across his legs. "Before you go anywhere," the old man informs him, "you've got some explaining to do." This accidental meeting between a troubled teen and a war veteran begins an unlikely friendship that helps the young man deal with his foster parents, a secret girlfriend and brushes with the law. The Medal is a coming-of-age story set in Canada and Afghanistan, interwoven with true stories of World War II and life in Kingston, Ontario.
Contact the author
to arrange book talks or presentations for schools, book clubs or community groups.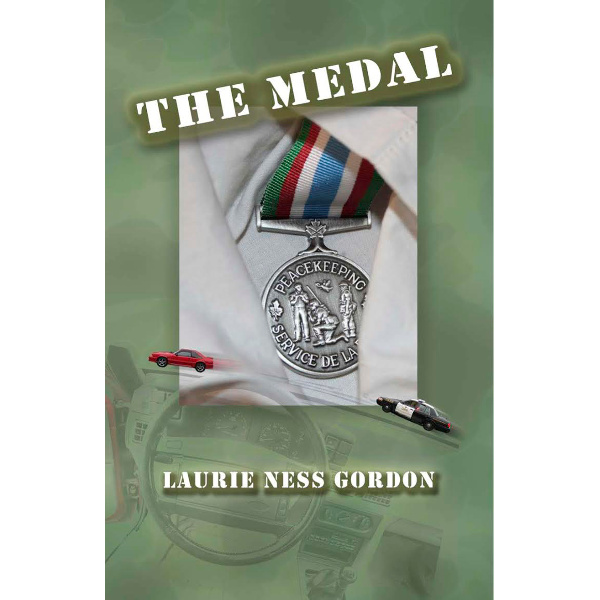 This book was recommended to me by a friend and I was not disappointed. In Kilian, Gordon has captured the essence of a turbulent teenage boy. The reader cheers for him, shakes her head at him, and in the end is struck by his perseverance and kindness. I highly recommend this book.
Where fact and fiction meet. Totally engaging.
I think your [sic] a good writer and have a great sense of imagination.
I finished your book today. What a great read. I just wanted to keep going to see how it ended. I got really emotionally attached to Kilian as the book progressed, but your ending caught me completely off guard and it made me cry. It was definitely not a Hollywood ending. I would recommend your book for anyone looking for something great to read.
Your novel is wonderful! Thank you for a very touching read. I thoroughly enjoyed the story.
I just finished reading your book, The Medal. It's a real gem! I'm really impressed by it. Your characterization, your tone and the voice of your characters are all right on. I want to congratulate you for a fine job.
Chronology of the Novel
Apr. 23, 2015    Book Launch – Victoria, British Columbia
Nov. 22, 2014    Book Launch – Kingston, Ontario
Oct. 31, 2014    The books arrive from the printer! Happiest Halloween ever!
Oct. 26, 2014    The cover design is sent to the printer
Oct. 19, 2014     The designer is working on the book cover
Oct. 9, 2104       The corrected pages are sent to the printer.
Oct. 8, 2014       Final corrections to page proofs are complete
Oct. 4, 2014       Corrections to the page proofs sent to the typesetter and editor
Oct. 1, 2014       Page proofs arrive from the typesetter
Sept. 25, 2014   Final manuscript sent to typesetter
Sept. 24, 2014   Final revision of manuscript sent to editor
Sept. 21, 2014   Photo shoot for the author photo by Shayne of SB Images
Sept. 18-23        Blurb and an author bio prepared for the back cover
Sept. 8, 2014     Manuscript corrections returned to editor
Sept. 6, 2014     Information for Library and Archives Canada sent to book designer
Sept. 6, 2014     Book designer sends me requirements
Sept. 1, 2014     Editor returns manuscript with comments
July 23, 2014     Manuscript e-mailed to the editor
July 7-22, 2014  Manuscript revision
July 7, 2014        Borealis Press offers me a book contract
Feb. 28, 2014     Borealis Press receives the manuscript and marketing ideas
Feb. 18-26, 2014 New ending and a few alterations to the manuscript
Feb. 18, 2014      Borealis Press requests the manuscript
Feb. 2, 2014         Submission sent to Borealis Press
June 2012-December 2013      Four publishers reject the manuscript
Sept. 2012-February 2014         Manuscript revisions
September 2012-June 2014     Chapter-by-chapter feedback from my Writers' Group
June 8, 2012        Completion of first draft
Aug. 2010-June 2012  Research and writing continue
Aug 26, 2010        Novel writing begins
July 2006-August 2010  Exploration of ideas for a contemporary coming-of-age story
Finding Home chronicles the adventures of Sarah Phillips, an orphaned British maidservant; who is seeking her family in Canada; and Richard Breeze, the son of an Ontario sawmill owner, who must redeem himself in his father's eyes and then chart his own course. Their individual journeys are brought together by a group of Home Children: poor youth and street urchins from the slums of England sent to Canada as cheap farm labour and domestic help. 
While tensions and intrigue mount over an out-of-wedlock pregnancy, an accidental drowning and even murder, the story also pulls back the curtain on many issues of the time: class differences, Protestant/Catholic friction, homophobia, racism and the treatment of child immigrants.
Finding Home was co-authored with Ruth Burke Allen who shares my love of history and writing.