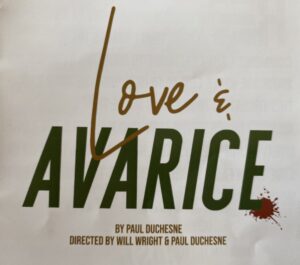 Roger and Claire Cohen face danger and peril amidst the sudden appearance of an ominous illness that ravages their community. (Sound familiar?) They struggle to maintain a crumbling marriage while trying to decipher the riddle of this threat and solve the disappearance of the man who may hold the key to unravelling the mystery.
On Saturday, my husband and I had the pleasure of attending a performance of Love and Avarice at the Royal Theatre in Gananoque, Ontario. We had seen this play previously in Brockville and wanted to attend a second time, not only because our son was one of the actors, but also to see the different staging in the two theatres. We found that the Royal Theatre offered greater intimacy compared with the larger, more ornate Brockville Arts Centre and, at the second venue, the playwright took the lead male role – a great opportunity to bring his vision to life.
Overall, it was a very enjoyable afternoon's entertainment.