I just received a response to a message I sent eight years ago!
In my novel The Medal, I created the character of Sam who is a composite of three Canadian soldiers who lost their lives in Afghanistan. Before the book was published, I wrote to each of their parents to tell them of my attempt to pay tribute to their sons in this manner.
Kevin McKay's mother only recently found my message. As a result of her response, I discovered that she and her husband had moved three years ago to a location less than an hour from me. Yesterday I met her for lunch and gave her a copy of my novel. What an emotional meeting for us both! She told me about her son's life and how his death has been honoured by his high school, the city of Barrie, the local Legion and his comrades. It was such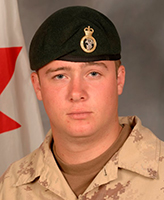 a privilege to meet her. I hope she and her husband enjoy The Medal.